Presents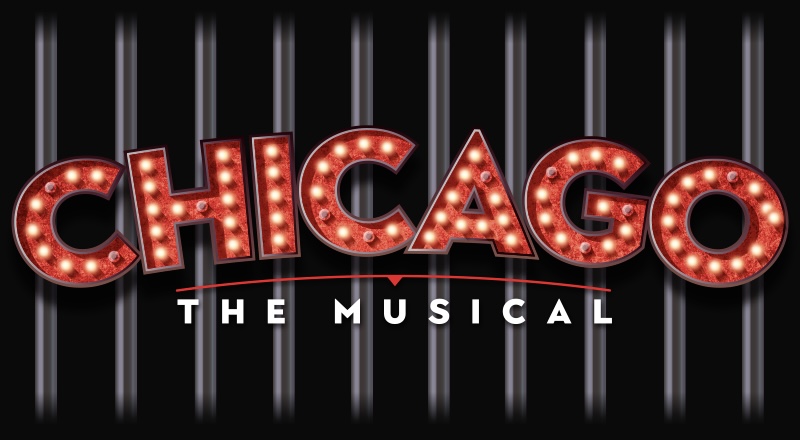 Book by Fred Ebb and Bob Fosse
Music by John Kander
Lyrics by Fred Ebb
Based on the play by Maurine Dallas Watkins
Script adapted by David Thompson
** Theatrical haze, smoke, and strobe lights in use during this performance
September 8,9, 13-16 at 7:30PM
September 10 at 2:00PM
This program is partially sponsored by a grant from the Illinois Arts Council
The Song List
Act I
All That Jazz.– Velma and Ensemble
Funny Honey–. Roxie
Cell Block Tango–Velma, Mona, Hunyak, Annie, Liz and June
When You're Good to Mama– Matron Mama Morton
All I Care About–Billy Flynn and Ensemble
A Little Bit of Good– Mary Sunshine
We Both Reached for the Gun– Billy, Roxie, Mary Sunshine and Ensemble
Roxie-Roxie and Ensemble
I Can't' Do It Alone–Velma
My Own Best Friend.–Roxie and Velma
Act II
I Know a Girl– Velma
Me and My Baby–Roxie and Ensemble
Mister Cellophane– Amos
When Velma Takes the Stand–Velma and Ensemble
Razzle Dazzle– Billy and Ensemble
Class– Velma and Matron
Nowadays–Roxie and Velma
The Cast
Roxie Hart– Raynah Unes-Reid
Velma Kelly–Lindsey Griffith
Matron Mamma Morton– Nicole Simkins
Sergeant Fogarty/Aaron– Johnny Simkins
Fred Casely–Josie Wails(Josh Lewis)
Amos Hart– Jimmy Lahood
Mary Sunshine–Jerrod Barth
Master of Ceremonies/Judge– Terry Grawey
Go to Hell Kitty– Holly Ott
Billy Flynn– Ryan Murphy
Mona–Jan Crim
Annie– Kasia Delinski
Hunyak– Anna Gross
June/Dance Captain–Marie Morris
Liz– Megan Manley
Ensemble
Taylor Allstott, Kelly Clay, Stephanie Curtis, Emily Davis , Kaelyn Ennis, Tristan Schoenert, Jake Yemm,
Creative Team
Director–Travis Olson
Music Director–Denise Adams
Choreographer– Lexi Zellmer Kaiser
Costumer– Carrie McMillion
Hair/Makeup– Ryan Stevenson
Production Assistant–Larissa Baize
Exec Dir. & Sound and Lighting Design– Steve Cordle
The Band
Conductor/Piano– Denise Adams
Reeds–George Graves Jr., Stephanie K
Trumpet– Heather Maughan
Trombone– Erica Graves Hoerdmann
Bass/Tuba–Tony Jones Percussion      Lucas Foote
Tech Team
Stage Manager/Lighting Design– David Worent
Deck Manager–. Taylor Cordle
Wagon Operator– Steve Jensen
Spotlights–George Whitman, MacGyver Hoferkamp
Flyman/Lift Operator–Myron Elliott Sound Assistant—Michelle Hoferkamp
Swings–Scott Moore, Phil Schloanesky, Lisa Schloanesky, Madison Cordle
Thank you to our Ushers:  Friends of Marge Creek, Caterpillar Chorus, EP Women's Club, Laureate Gamma Rho of Beta Sigma Phi, Caterpillar Retirees, EP Kiwanis, and Friends of Eastlight
Special Thanks to:
ICC Performing Arts Center
DYB Dance Studio
Clifford Clark
GREETINGS FROM THE CAST!
Denise Adam-Denis has spent virtually the whole summer at the piano. First at Spoon River College for "48 Hours"- recently at Eastlight for "The Last Five Years" and now for our production of Chicago. Her favorite musical activity is directing the Morton Civic Chorus which she has directed for 37 years. New singers of all ages are always welcome.
Taylor Aslott-Taylor is so thrilled to be making her Eastlight debut in Chicago. This will be her first time back on the stage since the pandemic. During her time offstage, she's enjoyed working backstage and continuing to learn more about theatre. Taylor is currently a teaching artist with Nitsch Theatre Arts. Taylor would like to thank her family, friends, cast and crew members, and all the wonderful performers she has learned from throughout the years. And a special thank you to Cliff and Travis for always believing in her. @tayloralstott
Larissa Baize-Larissa is no stranger to the Eastlight stage having performed in Mamma Mia, Singing in the Rain, and Escape to Margaritaville. This is her first time working with the production team and she wants to thank Travis for taking the time to work with her. This is a very talented cast and it has made her job easy! Enjoy the show!
Jerrod Barth-Jerrod is thrilled to be back at Eastlight with the show that cemented his love of musical theatre. He last appeared with Eastlight with Something Rotten back in 2020 when absolutely nothing was going on around the world. Some other shows in his nearly 18-year theatre career include Little Shop of Horrors, West Side Story, Beauty and the Beast, Into the Woods, Sweeney Todd, The Who's Tommy, Mary Poppins, First Date, Kinky Boots, Spongebob the Musical, and many, many, many more. When he's not jazzing it up on stage, he works day shift at Rivian in Normal and tries to also make time traveling the country attending various conventions having just recently travelled to Pittsburgh and Denver and hopes to continue such fun adventures. He hopes you enjoy the show as much as the cast has had putting it together and all that jazz!
Kelly Clay-Kelly Started dancing at the age of 2 1/2 at Debbys's School of Dance. Has performed with Opera Illinois in Carmen, The Merry Widow, Carousel and West Side Story where she portrayed Graziella. PPT performances include, Crazy for You, Christmas in the City, West Side Story as Minnie, Spongebob the Musical and Sweet Charity.  CST performances include Curtains and Mary Poppins.  ICC performaces include Godspell and Tazewood Dance Company for many, many years.  Peoria Pirates Cheerleader for two years. Midstate Steel Cheerleader for one year. Has 3 beautiful children. Married Rich Clay who gave her 6 bonus children and all together have 19 grandchildren.  Excited to be in this show.  Seen Chicago on Broadway back in 1998. Never imaged ever actually performing this show.  Excited to be a part of this amazing cast.
Jan Crim-Jan is thrilled to be performing in her first Eastlight production alongside her theater besties Ryan, Holly, and Stef.  Jan has been performing in community theater for over thirty years in the Peoria area and in Wilmington, NC.  She is currently serving on the board of directors for Peoria Players Theater. Some of her favorite perfomances include The Wedding Singer, Mamma Mia, Sweet Charity (Peoria Players), Brigadoon (Cornstock Theater), Best Little Whorehouse in Texas and Pippen (Thalian Hall).  Jan would like to give a huge THANK YOU to her husband, Lari, and all of their family and friends who support her love of the theater.
Stefanie Curtis-This is Stefanie's second show. This past May, she was first seen as a bridesmaid/ensemble in The Wedding Singer at Peoria Players Theater. Having such a fun experience with her first show, along with the encouragement from Ryan, Jan, and Holly, she decided to continue her new journey and audition for Chicago. She's found a passion for theater, not just for the dancing and performing, but getting to meet new people. The other place you'll find Stefanie on stage is being a Jazzercise Instructor in East Peoria. Within all the fun, she is going on her 26th year at CEFCU. Besides the love of dancing, Stefanie also loves fashion and spending time with her son Grayson, who also loves dancing and singing. She would like to thank her family, friends, coworkers, and Jazzercise family for their continued support! A special thanks toTravis, Lexi, and Denise for giving her this opportunity to be part of this amazing show!
Emily Davis– is so excited to be in this cast of CHICAGO! She has been in several productions of Eastlight's Joseph but this is her first time stepping out of her Joseph comfort zone. When Emily's not on the stage, you can find her doing hair at Marvella Salon in Peoria Heights or hanging out with her friends and cats. She hopes you all enjoy the show everyone has worked so hard on! #NotGuilty
Kasia Delinski– Kasia is thrilled to be making her Eastlight debut with Chicago! She has been in many other shows in the Peoria area, with her most recent being PPT's Lightning Thief. Kasia would like to thank the cast for being so welcoming and supportive, and thank the director for this opportunity!
Kaelyn Ennis-Kaelyn is excited to be doing her first show at Eastlight. Her first show since she moved here in December, was in Wedding Singer at PPT. She studied and got her Bachelors at the American Musical and Dramatic Academy in Hollywood where her love of theatre grew. Kaelyn is thrilled to get to participate in one of her dream shows, Chicago, and is so excited for everyone to see it!
Terry Greway-Happy to be a member of a VERY Talented Cast!
Lindsey Griffith-Lindsey is THRILLED to be a part of this production playing such an iconic role! She was most recently seen as Justice Charlier in "Rock of Ages" here at Eastlight Theatre! Previous credits also include: Eponine in "Les Miserables" and Emma Goldman in "Ragtime" at Peoria Players, Rosie in "Bye Bye Bye Birdie" and Anna in "The King and I" with Chillicothe Players, and Maria in "The Sound of Music" at River Valley Players. Lindsey lives in Chillicothe with her husband Daniel, two children Finn (5) and Nora (3), and their dog Moose! She'd like to thank Daniel for his continued love and support. This would not have been possible without you!!! When not on stage Lindsey works as the librarian at Chillicothe Elementary Center and Jr. High combining her love of books and children. Shoutout to all of her coworkers who have come out to show their support! She's also a big fan of movies and music, so it's not uncommon to catch her at the movies or supporting friends performing in the area and attending concerts. She'd like to thank her family and friends (new and old!) for coming in droves to support her AND the arts. It means more than any of you will ever know. Lastly, Lindsey would like to thank Travis and Lexi for believing that this non-dancing girl could put in the work and pull this role off! A lot of hard work has been put into this production, and we hope you enjoy the show!
Anna Gross– Anna is thrilled to be making her post-pandemic community theatre return with Chicago!  She is currently a senior at Richwoods High School where she is heavily involved in Student Council and various clubs.  Recently you may have seen her perform with the Peoria Area Civic Area Choral as their Young Artist Competition winner, or in shows at her high school such as Addams's Family and Clue.  Anna is also preparing to audition for college musical theatre programs around the Midwest.  She would like to give a special shout out to all the local teachers who have helped her over the years: Erin Pantages, Sarah Mayo, Laura Weaver-Hughes, Elena Paine, Beth Blackaby, and Tamra Challacombe. She has enjoyed being challenged with this show and sends thanks to Travis for trusting her with this role!  Enjoy the show!
Megan Manley-  It has 8 years since Megan has last been on the stage, but she is no stranger to the Peoria Theater. Some of her favorite productions have included Singing in the Rain (Lina Lamont) CST, Wedding Singer (Dancer) at EastLight Theater and GodSpell (Hippie girl) at Peoria Players. She devotes most of her time to her family and career in Cosmetology. She loves being a mom to the three most amazing kids on the planet! She enjoys being a crazy sports mom and cheering VERY loudly from the sidelines! She also loves spending every moment with her very best friend Jon, her husband. When not with her husband and kids, you can find her at Corpo Bello Salon making hair dreams come true with the best most talented team in Peoria! Megan would like to thank Travis, Lexi, Denise and the entire crew for their hard work and dedication on this production. This has been an amazing show to be a part of!
Marie Morris– Marie is a local realtor with RE/MAX Traders Unlimited as well as affiliated with the SunCollectors. Marie has two sons she loves very much Hayden (15) and Abram (9). Marie is currently sitting on the Board of Directors for the Peoria Symphony Orchestra Guild and she is also the founder of her own organization #girlsday, that's bringing many exciting gatherings to the Peoria area. Marie cares deeply for her community, the arts, and her family. She is especially excited to perform in Chicago because it has been 15 years since she has performed on a stage
Ryan Murphy-Ryan is excited to be performing in his very first Eastlight Theatre Production. The role of Billy Flynn has been a dream role for him to play ever since seeing CHICAGO in 2002 in NYC.  He auditioned for the role many years ago and was told he was too young, so he's thankful for being old now so he can check this role off his list.  Ryan has been performing on the Peoria Players Theatre stage for the last 30 years where he is also on the Board of Directors.  Some of his favorite shows he has apeared in are The Wedding Singer (George), Mama Mia (Harry Bright), Ragtime (Younger Brother), Once Upon A Mattress (Dauntless), The Wizard of Oz (Scarecrow) to name a few. When he is not performing on stage or designing hair and wigs for the stage, he can be found behind the chair at his studio, R Murphy Studio where his is a 23 year veteran hair colorist. Ryan would like to thank Travis for giving him this opportunity to play the role of Billy Flynn.  And a special thank you to his 'Angels' Jan, Stefanie, and Holly for pulling him through a rough year and sharing the stage all together once again.
Travis Olson-Chicago marks the third show that Travis has directed at Eastlight Theatre.  Other Eastlight credits include Big Fish and Beauty and the Beast.  Most recently, he directed the PREMIER Hit SpongeBob The Musical with Lexi by his side as choreographer.  Addams Family, Hunchback of Notredame, West Side Story, Shrek, Anything Goes, and Footloose are other shows that Travis has directed regionally.
During the day, Travis manages the Performing Arts center at Illinois Central College, where they just announced their Guest Artist Series.  Go to Icc.edu for tickets.  Travis would like to thank Clifford and Polly for their support through the rehearsal process.
Holly Ott-CHICAGO, a bucket list production, is Holly's first show ever at Eastlight Theatre. Holly's first show ever was in 2022 in Peoria Players MAMMA MIA (Islander), followed by Cornstock's FREAKY FRIDAY (Grandma Helene)! You may have seen Holly this year in a virtual "where's Waldo" flurry of roles in Cornstock's SISTER ACT, or in Peoria Players THE WEDDING SINGER (Angie/dancer)! Holly's other passions are her family (human and fur), her "other" stage job as a Body Pump instructor at Styles Studios Fitness… and naps! Holly has loved every minute preparing for this fantastical show and wants to make sure Ryan's Angels (Ryan, Jan and Stef), her girl Kaelyn and all her fellow cast and crew (Travis, Lexi & Denise) know how much she appreciates them. You are all the BEST! To her husband Jeff, thank you for your continued support, I love you! And to everyone in a seat watching this show THANK YOU for supporting the arts! In the immortal words of Roxie Hart, "We could not have done this without you!"
Tristan Schoenert-This is Tristan's fourth show at Eastlight and he is very excited and thankful to be part of Chicago. His past shows include "Singing in the Rain" "Tommy" and "Joseph". Outside of theater he attends Morton High School and is very proud to be a cellist in the Morton Orchestra. Tristan has two dogs and enjoys hanging out with themin his free time. Travis Olsen, and Lexi Zellmer are the reason that Tristan got to be in Chicago and he is very thankful for the opportunity. Tristan thanks you for coing and he hopes you have a good show.
Johnny Simkins-This is Johnny's first stage appearance since Eastlight's 2019 production of Mama Mia! when he rode his wife Nicole's coattails to an ensemble role as "Old Guy in the Back Trying to Keep up with the Young 'Uns." Back in his younger days, he appeared at Zellmer's Dinner Theater in Meet Me in St Louis, Singin' in the Rain and others. It was there he met Nicole. He's excited to be sharing a scene with his wife for the first time after all these years. He's had a lot of fun working with the talented directors, cast and crew of Chicago. When not on stage, he keeps himself in shape by singing in his church choir and teaching his granddaughter Harper his best dance moves. He's some sort of engineer at Caterpillar.
Nicole Simkins-Nicole is ecstatic to be back on the Eastlight stage!  She performed at Eastlight in 2019, where she played Donna in Mama Mia.  Nicole has been performing most of her life and has been in productions at Peoria Players. Cornstock and Eastlight Theater.  She is also happy to be sharing the stage once again with her husband, Johnny-whom she met at Zellmers Dinner Theater, way back when!  Nicole works for 210 Financial in Morton and lives in Tremont with her husband, mother-in-law, nephew and two dogs.  Chicago has some iconic roles and she is thrilled to be playing the part of Mama Morton-"When you're good to Mama, Mama's good to you!" Enjoy the production!
Raynah Unes–Reid-Raynah earned a Bachelor of Science degree in Media and Cinema Studies from the University of Illinois at Urbana-Champaign. A performer in dance and musical theatre from the age of four, Raynah recently launched her professional career of singing and playing guitar in area establishments. Offstage, Raynah is a realtor at Gallery Homes Real Estate, holding certifications as a SRS (Seller Representative Specialist) and RENE (Real Estate Negotiation Expert). She has deep gratitude to be able to share her gift and passion while spreading joy to the people she meets, and gives a huge shoutout to Eastlight Theater for the opportunity to embody her dream role, Roxie Hart in her favorite musical "Chicago". Enjoy!
Josie Wails-Josh(Josie Wails) Lewis loves acting and has been performing since high school. Since 2017 He has been performing with Whiskey City Burlesque. Josie enjoys a variety of performing arts from singing, to stage, and all avant garde eye catching displays. Chicago is Josie's second stage production since lending his talents to a stand in role with Cornerstone Academy for Performing Arts (CAPA) production of Les Miserables. Josie is a performer of many varied and amazing talents, and is very excited to be a part of Chicago.
Lexi Zellmer Kaiser-Choreographer
Lexi is thrilled at the honor to choreograph the iconic Chicago- There is nothing quite as unique as a Fosse show! Lexi grew up onstage and backstage alongside her parents at Zellmer's Dinner Theatre. In recent years, she has been seen as Director and/or Choreographer with recent favorites being Singin' in the Rain, High School Musical, Spongebob the Musical and Mamma Mia.  Since 2012, her career has been as a Licensed Prearrangement Specialist, overseeing preneed programs at funeral homes in Wisconsin, Illinois and Iowa. Lexi graduated from Illinois State University as an educator and currently teaches Public Speaking and Art at Illinois Central College in the summer program. In the past and currently, Lexi has kept her plate full with coaching the Dunlap dance team, the University of Wisconsin dance instructor and she can also be found teaching weekly cardio dance classes. She is the 2021 winner of  'Dancing with the Local Stars' and has coached multiple years and judged the CASA competition. She lives in a house full of boys with husband John Kaiser and their sons Henry (9), Addison (4) and Bradley, born in May.
MAJOR CONTRIBUTORS:

Myron Elliott Sr. & Family

Searchlight
 
                ($500 – $1,000)
Linda Abts
 
Spotlight
 
                    ($250 – $499)
Paul R. Day
Ronald & Judy Ziemba
John T. & Marilyn J. Leyland
Floodlight
 
                    ($100 – $249)
Cindy Brucker
Ken & Sheri Pope
William Murphy
Jerry & Rita Donath
Dale Loudermilk &  Jolene Cote
George & Kathy Whitman
William H. & Judy B. Fischer
Strobelight                                                                                                             up to$99
Maureen P. Sames
Dr. Rick & Cheryl Miller
Julie Wagner
Pat & Robert Schaub
Carol Guenther
Priscilla Whipp
Gordon and Pat Petry
Bill & Eveline Durham
Kathy Kalbacken
THANK YOU
TO OUR
BOARD!
Craig Weigle, Fon du lac Park District – President
Marjorie Greuter, EPCHS – Vice President
Chance Barlow, Fon du lac Park District – Treasurer
Ryan Beck, City of East Peoria Fire Department John Kahl, City of East Peoria
Stephen Matheny, EPCHS Assistant to the Board:  Ginny Friedrich